Ancient Limestone, natural finish.
Limestone is what happens when calcium precipitates out of water, and it can happen geologically or biologically, which is why you often find fossils hidden in the pattern.
This is also why it's so porous, giving it great insultation properties but also allowing stains to seep into your floors rather easily.
6000 years ago temples were built with Limestone in Malta. The Sphinx was built from Limestone and more recently, the Empire State building and St Pauls Cathedral were with Limestone.
You're in good company if you have Limestone floors, and here's how to look after them.
Limestone Floor Restoration 
Diverse Floor Restorations offers expert limestone services for all kinds of buildings, from private homes to commercial spaces. We offer a full spectrum of limestone care and maintenance, from simple tasks like floor polishing to more involved ones like full floor restoration and maintenance.  
Don't consider replacing your limestone because it's dirty, lackluster in appearance, dented, etched, or otherwise damaged. Limestone can be restored by Diverse Floor Restorations to make it look not just better but as good as new. 
About Limestone 
Limestone forms when calcium carbonate condenses out of water; this can take place geologically or biochemically, which explains why fossils are frequently buried within the rock.  
Its porous structure is what makes it an excellent insulator, but it also makes it easy to stain. In Malta, temples were constructed out of limestone as far back as 6,000 years. 
Limestone Floor Maintenance & Restoration 
Because limestone is a fairly soft stone, surface marks are often the first sign that it may require maintenance. You can rest easy knowing that when you hire us to clean, restore, and polish your limestone, you'll get the very best.  
Diverse Floor Restorations takes on more limestone floor polishing and restoration jobs than any other cleaning company. With the help of our expert technicians, we can provide a delicately textured finish that's also inviting and silky smooth. As a result, this gives your limestone a semigloss or smooth finish when using the proper polishing powders.  
Limestone floors can now be restored for less than you might think with Diverse Floor Restorations' cutting-edge processes. Trust the reliable experts to repair the damage.  
Whether you're looking for a floor cleaner, need a professional cleaning, or are trying to find specialists in limestone cleaning, polishing, and restoration, your search can end here. The following are some of the services we provide for limestone floors:  
Limestone Floor Cleaning-

The initial thing to do is to give the floors a good cleaning with a compound that won't damage the finish. If you intend to do this on your own, exercise caution and don't use any acidic cleaning products.

 

Limestone Floor Polishing-

Then, we'll use an influential rotary machine equipped with a variety of discs to polish the surface to perfection. This may be a matte, satin, or glossy finish.

 

Limestone Floor Repairs- 

We used resin and dust scraped off the limestone to fix the cracks and chips. The grout joints were repointed and all loose sealant was scraped out.

 
Limestone Floor Sealing

– The final step is to seal the limestone floors to protect them from further wear and tear. In some cases, even better than brand new!

 
With the help of Diverse Floor Restorations, you can have your limestone surfaces honed to remove any damage and reveal a brand new, flawless surface.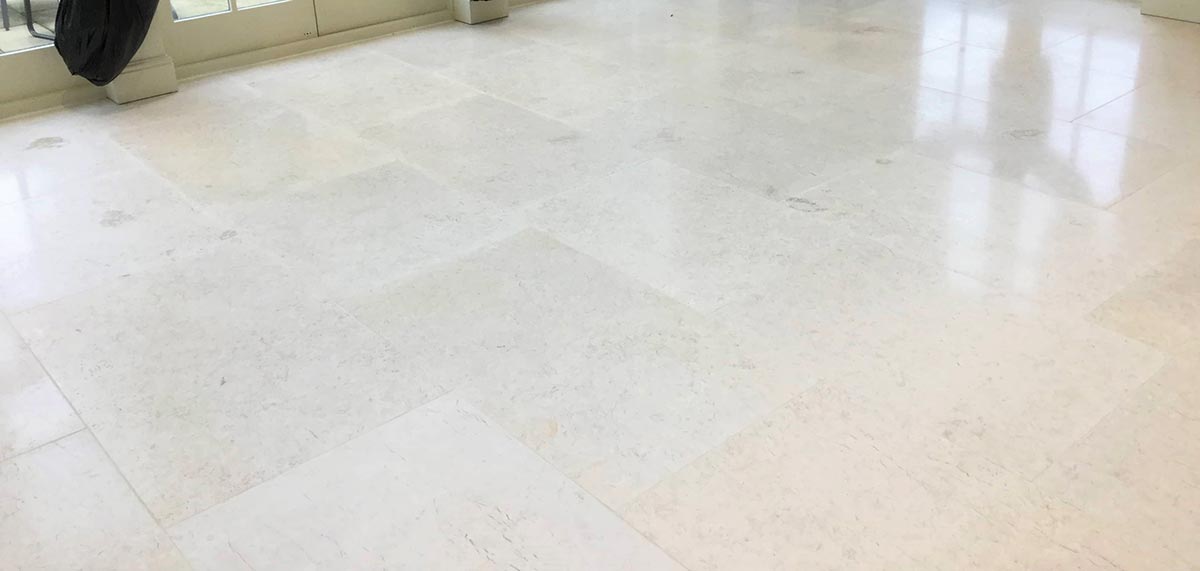 How convenient is our Limestone Floor Restoration Service? 
The subject of limestone is one that we know like the back of our hands. It is for this reason that you can put your faith in us to restore your limestone floors. We clean it with non-abrasive, chemical-free methods that maintain the material's natural beauty and lustre.  
At Diverse Floor Restorations, we respect your time and your home by always arriving at the appointed time and finishing the job in a timely manner. Our team of technicians will clean up after the job is done— effectively, quickly, and safely. 
We're Australia's Leading Experts in Limestone Restoration 
Our expert team at Diverse Floor Restorations can restore your Limestone floor to its original beauty. As we restore your limestone, we'll give you advice on how to care for it, the best cleaners to use, and other maintenance tips so that it maintains its beautiful appearance for years to come.  
Limestone flooring is something that Diverse Floor Restorations can take care of quickly and expertly. Prior to beginning any restoration, our expert team will examine the stone in question and make an in-depth determination as to the stone's current condition, its likely origins, and the best method for restoring it.  
Contact us right away to get a free, no-hassle quote from us. Diverse Floor Restorations will then have one of our specialist team get in touch with you to talk about your limestone's restoration and maintenance requirements.